MACKEY have a long history of working closely with clients and contractors alike from the beginning of a project to help produce the most effective design in terms of both efficient production and in turn reduced costs.
With our Engineering capabilities we often offer alternative designs and solutions to the client to ensure we begin every project looking forward and offering our expertise and experience when needed.
Working very closely with our Design Team using the latest detailing software we can turn around fabrication drawings in a short time period while also producing 3D models of the structures.
These models are often used by our clients to co-ordinate other aspects of the project with the Steel Structures eliminating the majority of on-site installation conflicts. All models produced are compatible with BIM which is becoming a huge aspect in the construction industry improving the efficiency of both the design and management of projects. We also visit all sites before detailing commences and if required perform site surveys using 3D laser scanning to ensure our detailers are working from real world conditions at all times.
MACKEY currently have a weekly capability of up to 100 tonnes for Structural Steel alongside our Stainless Steel and Mechanical Departments.
Our central base in Tipperary ensures we have the ability to service all of our clients nationwide. We excel in the production of large complex structures due to our loyal, trained and highly skilled workforce utilising modern CNC machines.
Continued investment ensures the company's fabrication base utilises the industry's most technologically advanced computer controlled machinery – all of which are fully integrated with our design department.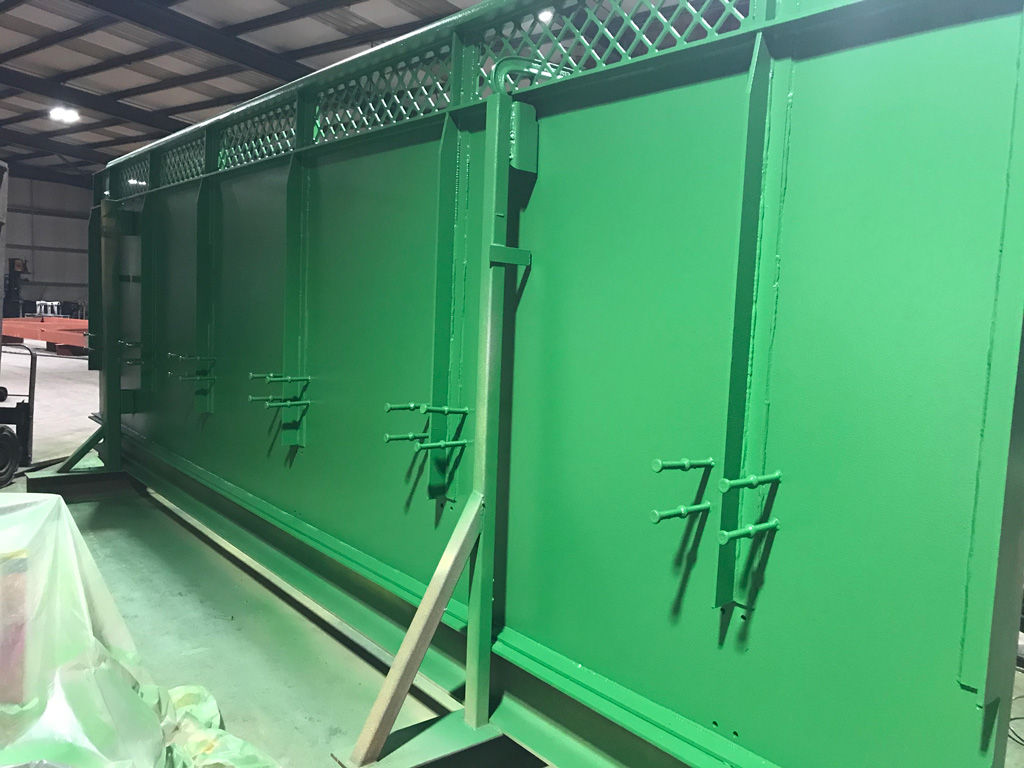 The final stage of the Fabrication process involves the application of a protective coating to steelwork.
Shot blasting is carried out following fabrication, thus ensuring that all items are thoroughly cleaned, prior to the application of paint. In a temperature controlled environment, MACKEY can then apply any coating specified from a holding primer to marine grade epoxy paint. We also have the capability to apply intumescent fire paint if required. At MACKEY we provide on site services for in situ sand blasting and application of protective coatings if required.
Our 4 acre stock/ loading yard ensures loading even the most complex structures is no problem for transport to site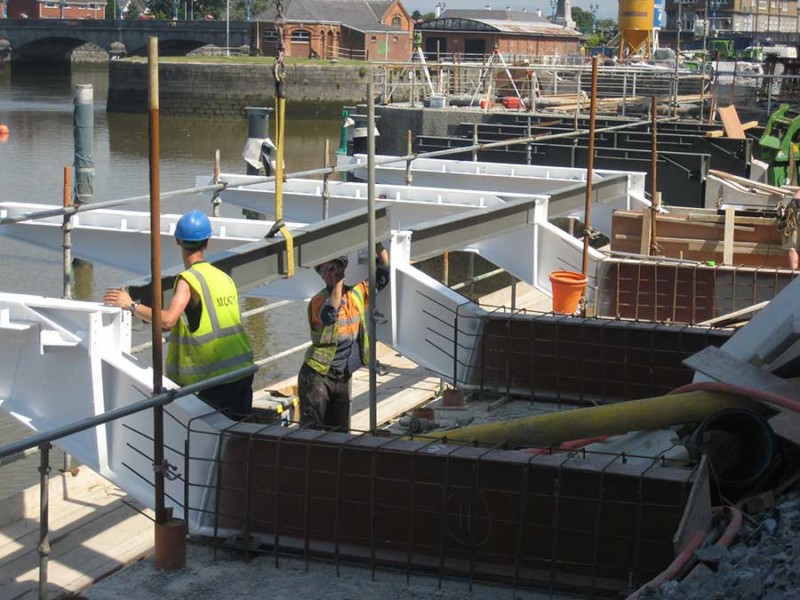 Our proactive approach to overcoming unexpected site problems is welcomed by the construction team and represents a continuation of the approach we strive to apply across our projects.
Our excellent record in Health & Safety has been achieved by taking a professional and responsible approach to all our work on site.
Controlled by our experienced site managers, all our activities are coordinated with not only the clients' professional team but with the other trade contractors on site avoiding costly clashes and logistics problems that have could have a major impact on the safe and efficient running of a project.
MACKEY Engineering recognise the importance of consistently providing quality throughout the fabrication and assembly process and have achieved third party accreditation for our various systems.
CE Marking – MACKEY is certified to the highest level possible, Execution Class 4, which very few IRISH contractors have achieved. The 'CE' certification demonstrates that MACKEY have the requisite Factory Production Control system in place and fully operational. This verifies compliance with the detailed requirements of BS EN 1090:2-2008 and EN ISO 3834:2 & 3-2005.